Mkay so I'm so nervous about Red Water coming out in a week that I am literally speechless. I'm supposed to be writing blogs and networking and doing Facebook Live but I CANNOT THINK OF ANYTHING TO SAY.
I'm afraid that if I go live on Facebook I'll just do this for thirty minutes:
Nobody wants to see that.
Yeah so I'm kind of enveloped in a state of panic-stasis. The kids made me go to the beach yesterday though, and I guess that helped a little. I gazed out at the horizon, chuckled at the pot-bellied treasure hunter, and mulled over the simultaneous grandeur and insignificance of life — our ephemeral, microscopic consciousnesses which is but a minuscule grain of sand on the incomprehensible beach of infinity.
Yeah, the beach totally helped with the panic.
But isn't Mari cute?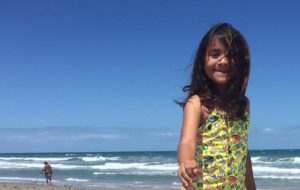 So, back to Red Water. Here are a few snippets from some of the reviews on Goodreads:
"I literally didn't put this book down except when I had to go to work. Erotic, naughty, haunting, nauseating, addictive, maddening…"
"…like peeling back the layers of my own toxic relationships. Red Water is deep, sexual, intriguing, heartbreaking, can't put it down good. A roller coaster of emotion that will leave you feeling dizzy."
"After reading this book it is easier for me to see how hard it is to break out of the cycle of abuse and how easy it is to get into the cycle to begin with."
"The emotions you feel as you ebb and flow through sadness, jubilation, anger, humiliation, and pride will leave you breathless." 
"…gritty and raw. A whole new perspective on some very serious issues. A glimpse at madness and evil but also a victim's road to redemption."
It's obviously a very dark book, right? Duh. But real, too, I think. (I hope.) My goal with Red Water was to take a big-ass meat grinder to the ol' "love the beast until he turns into a prince" trope and just massacre the everloving hell out of it. Because, as we know, in real life, controlling, manipulative men don't generally turn out to be princes.
***
If you enjoyed this post, you might also love my books. To keep up with new releases, join my reader group, follow me on Facebook or join my Facebook book group!
***
P.S. Just for fun, I made a playlist for Red Water. It contains all the music from the book as well as music that inspired the writing of Malory's journey. I hope you'll hit play and let it run in the background while you do life stuff. I think it's a pretty cool mix of Classical and modern music. Let me know what you think!
SaveSave