An Amazon Best Seller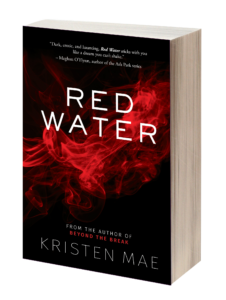 AMAZON iBOOKS B&N NOOK KOBO Google Play
He was trying to kill her, too…
"One of those books that chews you up and spits you out—you will never be the same." – Andra Watkins, New York Times bestselling author of Not Without My Father
"With prose that will bring you to your knees, Red Water will hold you in its grip without apology, and you will love every torturous second of it." – Beth Teliho, author of the award-winning Order of Seven.
"Dark, erotic, and haunting, Red Water sticks with you like a dream you can't shake." – Meghan O'Flynn, bestselling author of the Ash Park series
Malory would prefer just about any place over the beat-up trailer she's had to call home since her mom died, so even her tiny dorm room feels like an upgrade. And though she sometimes still hears her father's whispers in her mind, she's excelling at school, making new friends, and has even attracted an enigmatic admirer. But when her new love interest begins to reveal his more unsavory appetites, Malory finds herself a hapless participant in sick games that force her to confront her nasty inner demons. As the game intensifies, so do the whispers in Malory's head. Now she must decide: accept the fate she's always believed inevitable, or risk losing the only person who ever made her feel like she was worth fighting for. But how do you let love in when the only thing that feels right is pain?
At times erotic, at times disturbing, and at times both at once, Red Water slithers under your skin with its dark, unflinching examination of the psychology of self-loathing and the secret, unspeakable lust for depravity that lies dormant within us all.
AMAZON iBOOKS B&N NOOK KOBO Google Play
SNEAK PEEK:
PROLOGUE
I'm about eight, I think, which would make Liza six, so I doubt she shares this memory, but anyway… So I'm sitting at my place at the dining table, eating dinner with my family. I don't remember what we're eating, though it's probably shit on a shingle, a simple meal my mom always cooked: a can of cream of mushroom soup dumped over sautéed ground beef, onions, and mushrooms. Liza and I used to love when Mom cooked this because it meant we got to say "shit." So in this memory I'm sitting at the table, on the long side of the rectangle, and Liza is to my left at the far end of the table, at the head. I don't know why she sits so disconnected from the rest of the family, but she always did; that's just how it was. My dad is to my right, at the other head, in a special chair different from the rest of ours, with thick cushions and sturdy arms. And my mom is across from me. Behind me is a large, curtainless window, and on the other side of that is darkness. I am usually terrified of the window at night, how the blackness gleams like polished volcanic rock, pulsing with dark secrets. Anyone could be standing out there looking in on us, and we would never know. A bad guy might crouch on the other side of the glass, pointing a gun right at our house, and just for fun, shoot me while I'm on my way to the kitchen for a cup of water. A kidnapper could be out there, waiting for the perfect moment to smash the glass and snatch us. I don't understand why my parents won't cover the window with curtains or blinds the way other people do. But in this particular memory, even though it is night, I'm not worried about what might be on the other side of the window. Someone has just told a joke—I'm not sure who—and the four of us are laughing to the point of snorting, sliding off the sides of our chairs, almost choking on our food. My mom sways in her seat and her face is so red it's like she's embarrassed to be happy, her long dark hair a swinging curtain trying to hide her rosy cheeks. My father's eyes twinkle with merriment. At the far end of the table, Liza's little blonde head is bouncing in a way that tells me she's kicking her legs under the tabletop, her tiny body gone delirious with joy. The love in the room is expanding and contracting in time with my lungs, and I can almost believe that the universe was predestined to align in precisely this happy way. My chest just might explode from so much happiness. "No one else has this, you know," I say, still smiling but quite serious now. My parents stop laughing and look at me with expectant smiles. Liza stops swinging her legs—I can tell because her head isn't bobbing anymore. "Think about it." I set down my fork. "Brianna's parents are getting a divorce. Rachel's parents hate each other. Kyla screams at her mom and dad, and they just
let
her. Isn't it amazing, how happy we are?" "It's true," says Liza in her mousy voice. "We're the perfect family." "Yes," I say. "We really are." Mom is smiling. There are tears in her eyes. My dad swallows a bite of food and nods, setting his solemn gaze on each of us in turn. "We're very blessed. We should never, ever take it for granted." "I'm so happy I wanna
scream
," Liza squeaks. She hugs her arms around herself, and she's bouncing again, her little legs pumping furiously beneath the table. I am proud, not just that I have a perfect family, but that I am wise enough to see it. I feel very grown up to have pointed out our good fortune. I am not like other children who take everything for granted. But what I don't know, what I cannot possibly know because I am only eight for Christ's sake, is that my father, with intent and forethought nourished by an untainted evil my young brain cannot begin to contemplate, has already begun the process of killing my mother. I should have known. I should have known, because he was trying to kill me too.
AMAZON iBOOKS B&N NOOK KOBO Google Play
Join my Facebook book group for between-the-newsletter updates!
Save
Save
Save
Save
Save
Save
Save
Save
Save
Save