Early today I told my writing partner, who also happens to be a shrink, that I think I might be manic, and she was like, "OMG, shut up, you're not manic," and I was like THEN HOW AM I GETTING SO MUCH SHIT DONE, HUH? EXPLAIN THAT!! *smug waggly eyebrows*  and she was like "This is your normal. Welcome back, girl."
Without getting into all the depressing details, let's just say the last couple of years have had a bit of a go at me. I still got shit just done, just…way slower than usual. But lately I've been having these delightfully odd bouts of feeling like…myself. It's the weirdest thing, like I'm looking down at my body expecting to see dirty rags and instead I see a really upscale pair of yoga pants. It's been happening more and more frequently, these stretches of "me-ness," at first not often enough to have any confidence in them, but as of this writing I've felt like myself for a solid eight days. Yes, I keep track, and eight days is the longest stretch so far.
*contented sigh*
Now I'm embarrassed that I just told you all that. Anyway, I've been slowly writing books and editing books and marketing books and working (not on books. Day job. I'm a social media manager.) But no blogging, sorry. My poor website. It's pretty, right? Did you notice I redid it? I should write here more so people can look at how pretty the website is. But lately, if I write anything short-form, I give it to Scary Mommy, because they pay me. Duh, right?
I did have a point here…mainly my BIG NEWS that Beyond the Break is 50% off right now — only $2.99! WHAT?? 
*FIREWORKS EXPLODING, PEOPLE SCREAMING*
I know, I know, you can't click HERE fast enough to get your hands on it. You people are so wonderful. Now, if you're REALLY itching to get on my good side, share THIS FACEBOOK POST to your wall.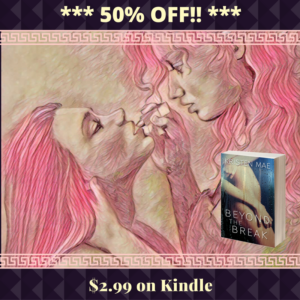 And my writing partner Meghan O'Flynn is doing a 3-BOOK GIVEAWAY of her awesomely disturbing and utterly riveting Ash Park series! The first in the series is on Kindle Unlimited, by the way, so if you're in KU you can read that one for free!
Click HERE or on the image below to enter the giveaway. (All you have to do is like and comment on a Facebook post. Literally could not be any easier.)
In other news, I just finished the first draft of Claire, the sort-of sequel to Beyond the Break (really it's just Claire's side of the story – can't wait to let you all into her head!)
Red Water, the darkest thing ever to cough itself up out of my brain, is slated to release in late March or early April of 2017. I can't wait to blow your minds with this one. Be sure to join my Facebook group and like my page so you can stay up on all the latest news, and follow me on Goodreads!
And that's what I've been doing instead of writing for my own damn website. Thanks for reading! xoxo
SaveSaveSaveSave