Remember how, when you were a kid, grownups seemed like they had life completely figured out? My mom in particular—she came off like an adulthood ninja. She was  always ready with a wise answer for any problem I threw at her, never yelled or lost her car keys or forgot to turn on the crockpot. She always looked like she knew what she was doing.
I'm 37, married with two kids, a homeowner, a taxpayer. A dog owner. I plow through checkbooks like I'm mad at trees. I schedule doctor's appointments and fill out forms and contribute to an IRA.
So why do I still feel like a little kid who has no idea what she's doing?
The other day I taught my viola student her last lesson. She graduated high school in the spring and has enrolled in a private university where she won a full scholarship to study music (#proud). Midway through the lesson, while I was drilling her on a tricky run in her orchestral audition excerpt, she broke down and started crying. Her anxiety over the audition—over not being good enough, over worrying she might get to college and realize she doesn't belong, over fearing that she is a fraud—had unraveled her.
I was the same back in my university days, always suspicious that I didn't really deserve a spot at a prestigious music school, terrified to perform because it would mean exposing myself. I entertained lurid fantasies about performing better than my best, about how, through some impossible divine intervention, I would walk on stage and the notes that had always caused my fingers to stumble and trip would suddenly come effortlessly. Of course it never happened that way. I always played a few degrees worse than my best, and often many excruciating degrees worse, thanks to trembling hands and memory wipes caused by performance anxiety. It didn't matter how much scholarship money I'd won, or whether I secured a fellowship to a prestigious music festival, or if I'd won a competition; I knew I was a fraud, I knew I had no idea what the hell I was doing and that at any moment I was going to fuck up and out myself.
Two decades later, and I still feel this way.
I keep thinking, Who in the world gave me permission to be in charge of important things? I still don't feel I should be trusted to operate heavy machinery—a few weeks ago I reversed my Honda Pilot out of my garage with the back hatch gawking open and ripped off the decorative "H." I certainly shouldn't be entrusted with keeping actual living, breathing human beings alive and healthy and clean-ish. My six-year-old brushed her hair eight times the entire summer, and my ten-year-old has an eye twitch probably caused by too much Minecraft. Right now, twelve inches from my left elbow, sits a mountain of books and probably fairly important papers the approximate gerth of A-L of the Encyclopedia Britannica. There is a huge, black Rorschach blot of a coffee stain on the carpet beside my couch. It's been there for three years.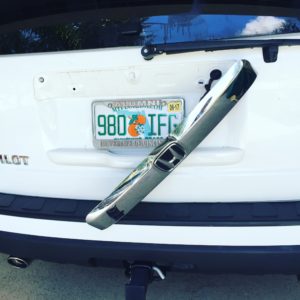 I don't know what I'm doing. I'm still just an inexperienced kid, gathering information about the world in haphazard bursts, sometimes taking in great, satisfying epiphanies but more often leaping and grabbing at nothing. I understand nothing. I know painfully little. I pray that one day I'll be halfway decent at something, but I fear that no matter how hard I try, I'll never be really good at anything.
I'm not even sure how I measure "good."
And I'm on this ridiculous quest to try to be an author, oh, for Pete's sake, who the hell do I think I am? Writing books is something smart grownups do. I'm still just a student trying very hard to impress her teacher, still just a kid, pecking at my instrument day after day with no guarantee of a return on investment. I'm still terrified, still unsure, still trying to be something bigger than myself, fantasizing that maybe one day I'll produce something beyond my meager capabilities, something that is worthy of pride.
I'm in exactly the same place I was half my life ago, the same place where my viola student is now: I simply do not believe I have what it takes. And yet, like my student—well, former student; she's moved on to bigger and better things—I will dry my tears, have a chuckle at myself for being so silly, and keep stubbornly pecking away.
***
If you enjoyed this post, you might also love my books. To keep up with new releases, join my reader group, follow me on Facebook or join my Facebook book group!
SaveSave
SaveSave
SaveSaveSaveSave
SaveSave