I think I go for full days sometimes without even looking at my husband.
He's not the problem—I am. I never stop working. Never. I'm a social media manager, a freelance writer, and a novelist, and I do all of that from home, which means my office…kind of follows me around everywhere. Worse than that, since much of my work occurs on social media, my office—MY PHONE—is literally right in my hand.
About a month ago, I realized I had not taken a true day off since July of 2015. No weekends, no Christmas, no vacations. I even worked during the vacation my husband and I took to Vancouver, Canada—you know, the one that was supposed to "rekindle the romance?" Hustle, hustle, hustle, always on, always working, always adding one more thing to the pile, because that is the only way to be "successful," right?
Oy. What am I doing?
I got an email last week from Denis, a professional massage therapist, asking me if I'd be willing to try out his couple's massage instructional videos in time for Father's Day.
Gee, I dunno, let me consider this carefully: Would my husband enjoy the gift of me putting my hands all over him?
Gosh, this is a real stumper.
I checked Denis out to verify he was legit—found out he's been doing massage for 15 years, has worked on famous people like Peirce Brosnan, James Earl Jones, and the Pussy Cat Dolls. The couples' program began with him using massage to woo his wife of 7 years, Emma, and was never even supposed to be released to the public. But friends and family kept requesting to learn the back rub routine, so Denis created a system that he could share with people. Since then, Denis has taught thousands of couples to connect through massage, getting them to pause (like me with my insane, non-stop hustling), breathe, touch, connect.
I watched the Melt videos, honestly expecting some weird, overly-sensual, suggestive awkwardness, but they are incredibly well-done, presented in 5-minute videos, about six per series. Instructions are clear and easy to apply.
Turns out I've been doing some things wrong. On the rare occasion I take the time to give my husband a massage, I normally just kinda ram my knuckles into his neck, like a power drill. I thought him cringing in pain was indication that it was working, like how when you were a kid and your mom would pour peroxide on the scrape on your knee and you would scream in agony and she'd be like, "The sting is how you know it's working!"
The Melt videos taught me that long, sweeping strokes are preferable to, um…knuckle drilling. #KnowBetterDoBetter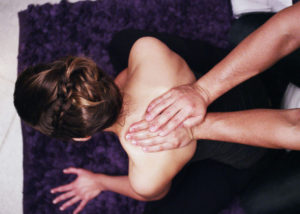 I'm going to make my husband watch the videos too, mainly because, although I appreciate his efforts, he uses his weird, double-jointed thumbs when he massages me, and the Melt videos will teach him that you're not supposed to use your thumbs (who knew?).
But, for Father's Day, it's all about him. I appreciate my husband's tireless contributions to our family, and I want to show him that. I want to step away from the computer, put down my stupid phone, and lay my newly expert hands upon my him.
I want to make him Melt.
If you think your husband might also enjoy a bit of hands-on connection, learn more about Melt HERE.
Seriously, check this out. So sweet!
Melt sponsored this post, obviously, and THANK GOODNESS because I had no idea what I was going to get my husband for Father's Day, not that he wouldn't have loved the macaroni necklaces I was going to have the kids make. 😉 Make sure to share this post with your friends who want a knock-it-out-of-the-park gift idea for Father's Day! As long as they go through this post, they get ALL the massage videos mentioned above. Happy massaging, and a very happy Father's Day to all the awesome dads out there!