A while back, I started a series of weekly wrap-up posts called "Totally awesome stuff you didn't see because of Facebook's stupid algorithm," which was in response to Facebook being a huge dick and hiding my posts from you. And like God when he created light, I was like, "This is good."
Then, because I am but a mortal, I abruptly stopped doing the posts out of sheer sloth. Luckily for YOU, in addition to being slothful I'm also a huge narcissist, so I like to read back through old blog posts and laugh at my own jokes. I so enjoyed rereading my Friday Facebook wrap-up posts that I decided I would start them up again, except not on Fridays because I am too flaky to stick to a routine, and I'm just going to call them whatever the hell comes to me in the moment because WordPress gets glitchy if you have a bunch of posts with similar titles.
So here's a bunch of crap you probably didn't see because of Facebook's stupid algorithm:
August 21: The kids had been in school for three days and I needed you all to know about my love of rap music. Plus, IT'S A KITTEN:
"Mine are at school. *Turns volume up on dirty rap music*"
That Friday I went grocery shopping BY MYSELF and was all,
"Just went grocery shopping without the kids. Holy crap that was fast."
Saturday we took the kids to Disney and I made the following observation, which is probably true of all mothers and therefore not actually that impressive:
"Considering the contortions I'm capable of in the car when setting up a kid's DVD or passing a snack to the back seat, it really is a wonder I'm not in the circus."
Also in the car:
"Husband: I love you too.

Me: I… didn't say I love you.

Husband: I know. I love the band U2.

Me: You're mean."
I should clarify that we were listening to U2 in the car and when my husband said "I love U2," I didn't make the connection… because I don't recognize bands. I only recognize classical music. Please don't leave me.
Sometimes I share stuff with you guys just because I think it's funny:
Or inspiring:
August 29th is one of the days Mari tried to murder me with her outlandish adorableness:
"'I miss my bubby so much I could fart.' – Mari, age 4, on having not seen her brother all day."
And I FINALLY put my foot down with my husband:
"Husband: Sneezes

Me: Bless you.

H: Sneezes

Me: Bless you.

H: Sneezes

Me: You're on your own now, dude."
On Sunday I was forced to make the following depressing-as-shit observation about myself:
"I'm two beads of sweat away from being one of those ladies who carries around a hanky and constantly dabs at her upper lip.
#SoThatsNice"
I am occasionally capable of seeing the positive in things as well (and also making jokes that you only get if you're paying attention. I admit I was pretty proud of this one):
"Just realized I'm not an attention whore; I'm a validation whore. That is a very important distinction. 
…You understand exactly what I mean, right?"
Not everyone got the joke. Congrats to those who did.
I'd had enough of the Labor Day selfies that were really poorly-disguised plots devised by women who needed people to marvel at their boobs:
"Re: Labor Day selfies: If the shot is 80% boob, you are not fooling anyone. Do us all a favor and make the pic 100% boob. At least then you get credit for being straight with people."
This last one isn't funny at all, but it's kind of cool. I started drawing again. Or attempted to, anyway. It's the first time in twelve years I've drawn on paper that was actually intended for drawing. Well… I bought it at Walmart in the school supplies section. I think technically the paper is meant for kindergartners and their crayons. Close enough. Anyway, I asked you guys if you had let any special talents fall by the wayside since having kids, getting married, starting a career, etc… and a TON of you were just like me, having had a long-dormant talent. It made me kind of sad. I think we should work a little harder at holding on to this stuff, don't you?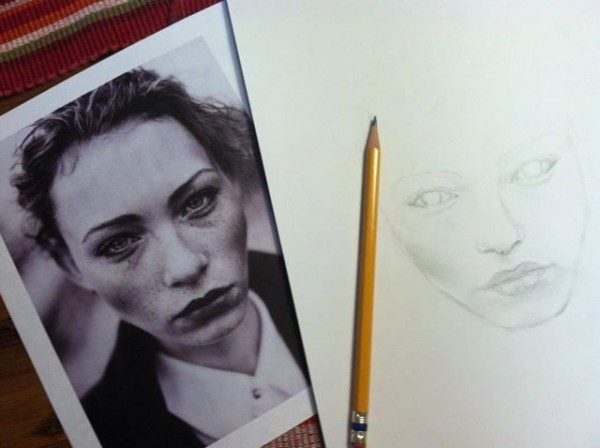 "I said I would share the finished drawing with you guys even if I wasn't happy with how it turned out. I know this doesn't suck but I'm annoyed that it doesn't really look like the photo. And that my version looks like a half-alien meth head. I used an entire eraser on this drawing. Okay I'll shut up now."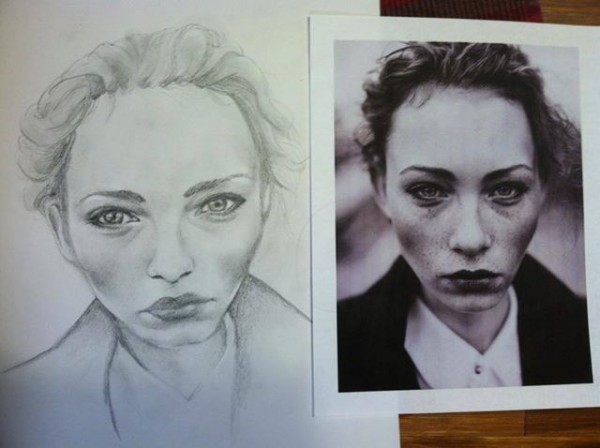 Don't forget to subscribe to AP so you never miss another post! Thanks for reading!